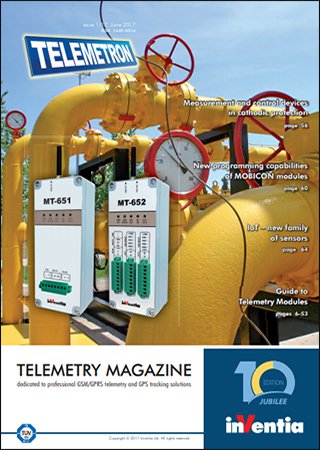 Dear Readers,
This is the tenth edition of the telemetry magazine that we present to you. We are honoured to have been able to provide you for so many years with new information about professional telemetry and tracking solutions based on GSM/GPRS/3G/4G and GPS mobile technology.
We hope for another successful decade with TELEMETRON magazine!
On the occasion of the jubilee edition of the magazine and the 16th anniversary of INVENTIA President Jerzy Białousz shares with you his reflections about the history of the company's development.
We encourage you to read the articles dedicated to the new MT-651 and MT-652 telemetry modules that entered the market last year as a response to the demand from the gas industry. In this issue we have also included a description of new capabilities in MOBICON® series programming and new features in the communication of these modules with M-Bus devices. The IoT (Internet of Things) family of telemetry modules, which is a group of wireless sensors based on the LoRa radio technology, as well as the new TK500 routers produced by Welotec Company, are Inventia's new offerings.
We would like to thank Mr. Jarosław Strojecki from AB-MICRO, the company which was the precursor of our telemetry solutions, for his article on predictive maintenance in transformer stations, a process based on temperature monitoring by means of the MT-151 HMI module. Many thanks also to Mr. Maciej Sawicki, who has described the use of advanced functionality of a new generation of telemetry modules in applications developed and implemented by Control System last year, and Mr. Maciej Malicki for his article about the use of the new modules in cathodic protection.
In this issue we also publish two articles by our foreign partners: ICH from Mexico, which has used telemetry modules for remote monitoring and control of drinking water intakes, and Pipeguard from Sweden, which has implemented a telemetry system for monitoring district heating pipelines in China's first plant generating heat with the use of environmentally-friendly solutions.
In this issue you will find specification sheets for Inventia's all telemetry and tracking modules, which are colour-coded into different application groups. The comparison table placed at the end of the magazine makes it easy to find a device with the resources and capabilities that best suit your needs.
Have a fruitful read!